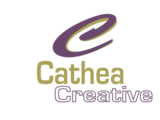 Web Design & IT Consulting
About Cathea Creative
Cathea Creative was founded September 30, 2011 by Cathea Woodley in Charlotte, NC to offer affordable web design, graphic design and IT consulting services to businesses, organizations and individuals. Cathea Creative strives to bring a personal approach to each project by first discussing your goals and objectives in order to identify the right services for your unique needs. Whether it's a new web site, business cards, software recommendations, or party invitations Cathea Creative loves to help customers that don't have the time, expertise or desire to attempt their design projects alone.
About the Owner | Cathea Woodley
Cathea Woodley has worked as a consultant and business analyst for over 10 years. While working at several Fortune 500 organizations she gained valuable skills in business analysis, information systems, project management, and web design.
Cathea earned a Master of Internet Technology from The University of Georgia - Terry College of Business. She also holds a B. S. degree in Computer Information Systems from Florida A&M University.
Cathea first became interested in web design in high school. After a college internship working in the web development group of a major aerospace company, she developed a passion for web and graphic design.
Cathea currently lives in her hometown of Charlotte, NC, but has also lived in Tallahassee, FL, Houston, TX, and Atlanta, GA. She enjoys spending time with her family and her Bichon Frise/Pomeranian. Cathea also loves traveling, attending concerts, reading, volunteering, cooking, singing, and watching TV.
back to top